SHOCKING: Sponsors of Biafra Revealed, 2 of Them Are Northern Governors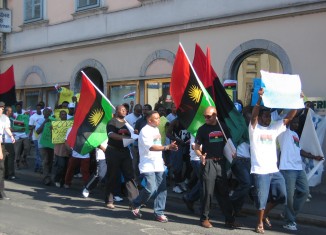 Two Northern governors have been summoned for questioning after it emerged with proof that they are sponsoring the "Radio Biafra" radio station in UK.

Speaking exclusively to BNN, an angry Pro-Biafran said, "It is either they give us Biafra or we continue to provide proof that even the Northerners want this. The whole Nigeria wants this."

In the shocking video, arrested Biafran leader Nnamdi Kanu is seen in a floor meeting with two Northern Nigerian Governors in UK.