Explosion In Pakistan Leaves Scores Dead.
An explosion in the Pakistani city of Lahore has killed at least 50 people and injured dozens more, officials say.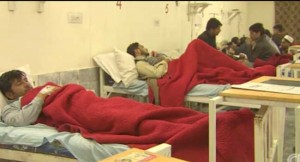 The blast occurred on Sunday in the parking area of Gulshan-e-Iqbal Park, a few feet (metres) away from children's swings.
The park had been particularly busy on Sunday evening due to the Easter holiday weekend.
Police told the BBC it appeared to be a suicide bomb but no group has claimed responsibility for the blast.
All the major hospitals in the area have been put on an emergency footing, local media report.
Most of the dead and injured are women and children, a senior local police officer told Reuters news agency.
One eyewitness said there was chaos, with a stampede breaking out and children separated from their parents in the rush to escape.
"Most of the dead and injured are women and children," said Mustansar Feroz, police superintendent for the area in which the park is located.
Eyewitnesses said they saw body parts strewn across the parking lot once the dust had settled after the blast.
Pakistan, a nuclear-armed nation of 190 million people, is plagued by a Taliban insurgency, criminal gangs and sectarian violence. Punjab is its biggest and wealthiest province.